New to youth ministry and joining us for the first time?? AWESOME, we're so glad you're joining us! When you join us, just fill out this permission slip here and bring it with you! Youth Ministry Info Form    
November!
Middle School Youth Night Wednesday's 7:30-8:30pm: Economic Justice - November: 13th, 20th // Not November 27th
Snack sign up! https://www.signupgenius.com/go/60b044baea623a3f94-wednesday
High School Bible Study Sunday's 7-8:30pm: November 17th, 24th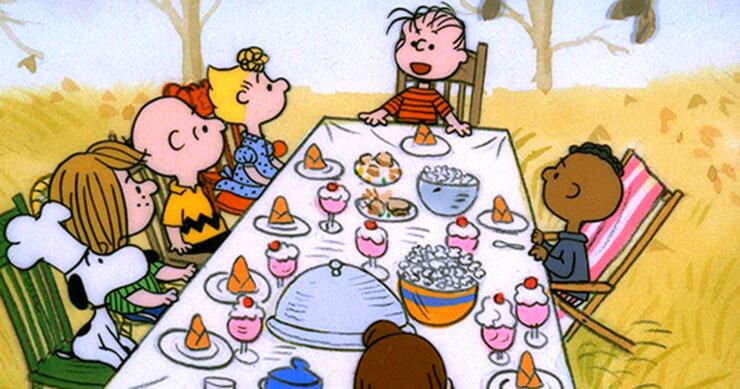 Friendsgiving! Sunday November 24th from 4-6pm! Then Youth Mass at 6pm!
Who doesn't love Thanksgiving and hanging out with friends?! Now you can do both, together! It's gonna be a Charlie Brown Thanksgiving! Open to grades 5-12, all are invited, the only catch is, you need to bring food to share! Chicken nuggets, Mac n Cheese, Lasagna, whatever you please, you just need to bring a dish to share!
For those of you that are in high school, if you don't want to participate you can help me run the event! I will need volunteers in helping serve, play games, set up etc!
Please RSVP and let me know if you would like to participate in the event, or volunteer!
December!
HSYN Sunday's from 7-8:30pm: 1st, 15th, 22nd // Not on 8th because of Confirmation, 29th will be the breakfast!

MSYN Wednesday's from 7:30-8:30pm: 11th, 18th // Not on 4th because Christmas Caroling instead

**Events where all are welcome - take note!**

Friday December 6th is Christmas Caroling at the Warde Center from 5:30-6:30pm! (Cookies and Cocoa from 6:30-7:30 tbd)

We crack open the hymnals and join together in singing some Christmas tunes! The elderly resident's at the Warde center very much appreciate having guests visit them and bring Christmas cheer. So grab your ugly Christmas sweater and get ready to spread some holiday cheer! We will not have MSYN on the 4th so that we can all go caroling instead!
Sunday December 8th is Confirmation

We will NOT have HSYN because we will be celebrating Confirmation! Please consider joining us for Mass to celebrate your fellow peers choosing to be followers of Christ!
Wednesday December 11th is Adoration and Confession from 7:30-8:30pm (following 7pm Mass)
For the three Wednesday's of Advent we will be having Adoration and Reconciliation following the 7pm Mass. Christmas is always a time of hustle and bustle, so instead of creating more events that keep us all busy, we want to present opportunities where we can all slowww downnnn. Adoration is a perfect time to do so! For this night we will all be spending youth night in the Church to participate in adoration and confession.
Friday December 20th is Living Nativity from 4:30-7pm! (Grades 7-12)

We will be re-enacting the Nativity for the commuters of Windham! Friday's are busy, and what better way to evangelize to a town than to get them while they're waiting in traffic to get home! Please arrive promptly at 4:30pm so that way everyone can get in costume and take positions. We will be outside acting out the scene from 5-6pm so dress warmly! After that, we will clean up, help put stuff away, and then finish with some warm snacks!
**First come first serve for roles so email me to sign up!** We will need: Mary, Joseph, a star, wise men, the angel Gabriel, and a shepherd!
QUESTIONS / WANTING TO SIGN UP FOR EVENTS?
EMAIL: Kim the youth minister at [email protected]
Call/text Google phone: (978)651-1507
FOLLOW US on Instagram!  youth.stmattsnh